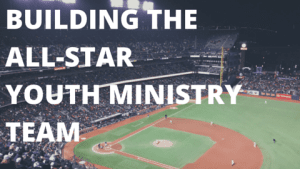 I'm getting close to finishing the update to the long-awaited "Building the All-Star Team," course.
I've been working on this for the last several months, but I'm finally going to wrap it up.  I will be launching the course in the next few weeks.
This course will be entirely focused on helping you build a STRONG volunteer Youth Ministry team.  It will include a ton of training videos, worksheets, and coaching.  In these I am going to be giving you everything I know about building an awesome Youth Ministry team.
I am going to cover all of the ways I find, recruit, train, encourage, and keep great volunteer Youth Ministry leaders.
HOWEVER, I need your help.  Before I finalize everything and roll this out again, I need to make sure I have covered everything.
That is where you come in.  Please take a few minutes to answer this super-short survey–there really is only one thing I want to ask you…